State of Picobrew Recipe Crafting
The State of Our Recipes is at an all time high. Never before has a Picobrewer had the ability to find 4 or more sources online to craft and share a Picobrew recipe with the broader community of Picobrewers. Read more about what the community has been up to over the past 2.5+ years.
The State of Our Recipes (and Recipe Crafters)
ver. 2022.9.20
✅
TLDR; The State of Our Recipes is at an all time high.

Never before has a Picobrewer had the ability to find 4 or more sources online to craft and share a Picobrew recipe with the broader community of Picobrewers.
Below l have compiled a list of brew crafters that are in use by members of this community. First is a list of Picobrew specific crafters that are built specific to Picobrew brewing practices and machines and later will be a list of more generic purpose crafters that have also been used quite successfully by Picobrew owner and brewers in this group and on HomebrewTalk.
PicoBrew Specific Crafters
BrewHouse (https://picobrew.com/crafter)
Picobrew's in-house crafter which supports creating custom private or public recipes for manual brewing only with Pico C/S/Pro or fully automated recipes for Zymatic or ZSeries devices. This crafter today is still fully functional, though does have an expired SSL certificate issue (documented work arounds are in a pinned post in Picobrewers Facebook Group)
Though since Picobrew never intended PicoPak style brewing to be in the hands of the final brewer, but rather the PicoPak e-commerce Marketplace there was never added support for these offline server modifications that allow for this style of experience. Futures of BrewHouse include not only recipe sharing, but also recipe comments and 5-star ratings available as well.
BrewCrafter2 (https://crafter.pilotbatchbrewing.com)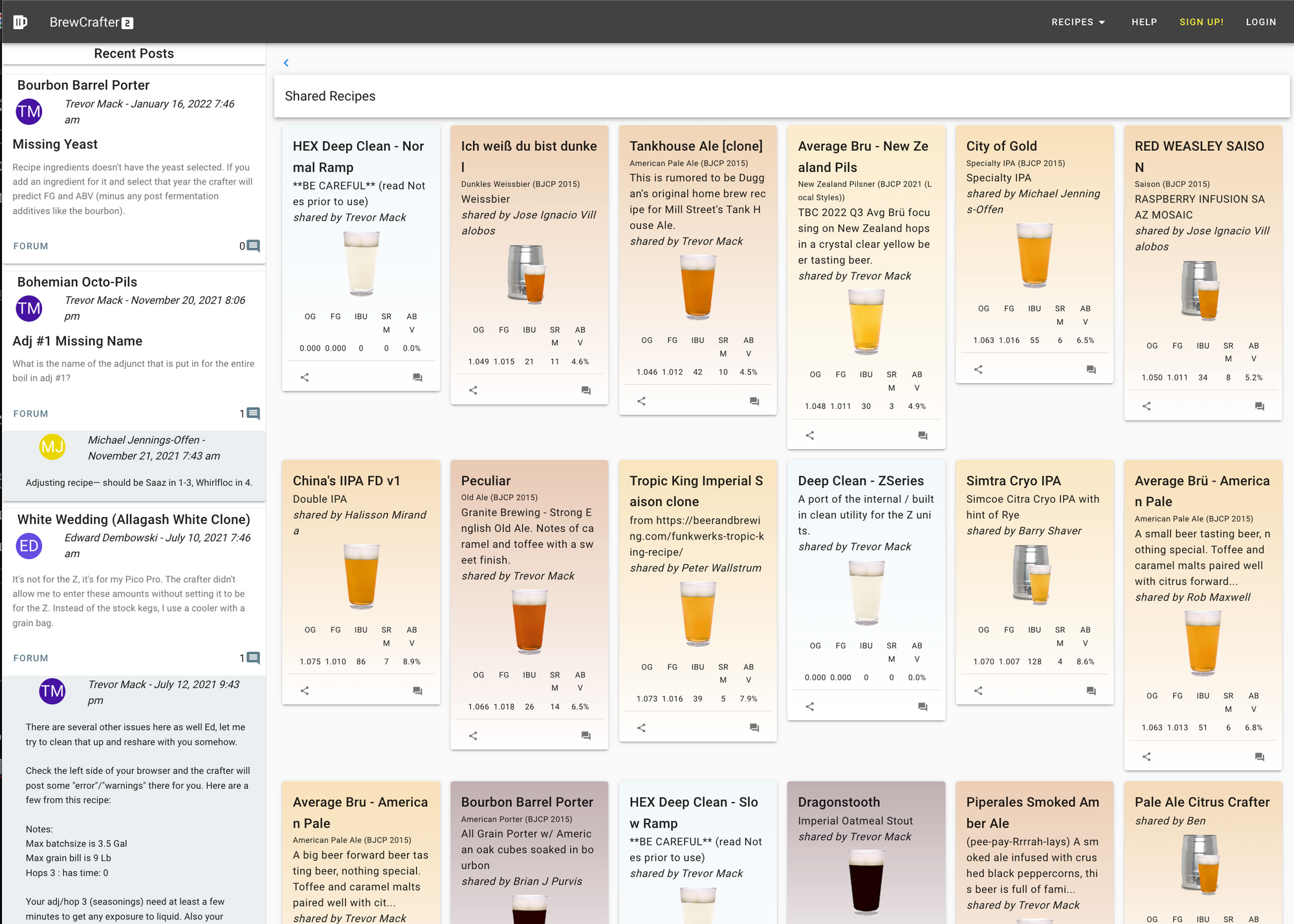 Originally built by a single Picobrew employee to be the official beta crafter for the ZSeries device line. Now that the community has taken over maintenance the features have increased to provide a native built experience for both manual and automated recipe creation for Pico C/S/Pro as well as the ever popular and first brewing appliance, Zymatic. Recipe sharing can be augmented with a commenting forum for each recipe so that users can provide feedback to the original author/brewer.
[no crafter experience] Picobrew Public Recipe Library (https://pbrecipes.beer)
A community clone of Picobrew public recipes shared previously by community members to BrewHouse collected in the off chance that Picobrew website would face issues (similar to the expired SSL certificate) due to the receivership or later actions taken by the owner.
Small Brew Companion
SBC as it is commonly referred to as comes preloaded with hundreds of recipe kits from many online beer supply stores (ex. NorthernBrewer, Great Fermentations, Adventures in Homebrewing, and so much more). In addition to these pre-loaded brewing kits that have been scaled to Pico-style brewing devices there is a fully featured community shared library where you can share recipes with other SBC users right from within the Windows based application.
[limited functionality] chiefwigms/picobrew
The "recipe" crafter experience in this offline server solution was originally intended to be an overly simplistic machine instruction modification interface. However, things have evolved over time as more and more community users started using and requesting different experiences (primarily the ability to share a recipe). There still will never be a full crafting experience added to this server solution because accessibility and updatability of the server is limited in some situations so doesn't lend itself well to those use cases with the plenty of other great full featured crafters out there.
The original experience was to have re-usable recipes like the example above "Generic 60,45,30,15" which could be used and modified each brew that shared the same mash profile and hop profile of having 4 hops placed into the boil every 15 minutes. Obviously you could have multiple of these for each specific hop schedule you typically brew after looking through recipes and finding a pattern, or change the hop schedule on the fly right before brew day. With this solution people could brew 100s if not 1000s of different beers with 10-20 total "recipes". Though sharing details to these recipes in an offline server compatible way would have to be left to something else (see other options in this post).
General Purpose Crafters
BrewFather (Zymatic and ZSeries both have public profiles that some have used successfully)
BeerSmith (there is no public profiles, but there are a few threads on FB and/or HBT about setting one up)
HomebrewTalk Recipe Database (https://www.homebrewtalk.com/...)
Publication (books, blogs, magazines, etc)
Pen and Paper
many, many, more options are out there
Do you have a favorite crafter that isn't on the list above? Have a clever way that you get started with crafting and want to share with the group? Or any other information you feel should be included in this pinned/featured post that I didn't already add, let us know in the Picobrewers Facebook Group or over at the less active /r/Picobrew sub-Reddit.
🍻
Happy Brewing and always keep in mind the common saying among Homebrew community:

Relax, Don't Worry Have a Homebrew